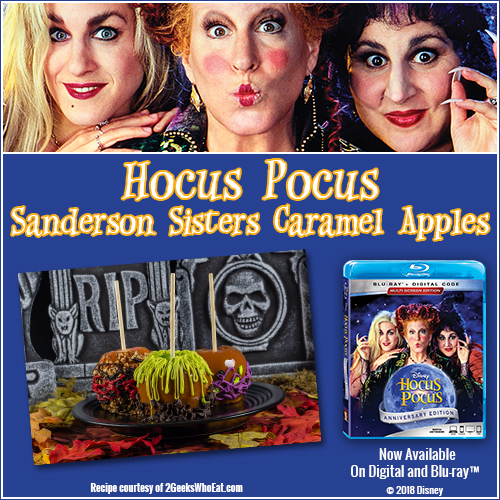 Double, double, toil and trouble! Time to revisit your favorite Halloween modern classic…HOCUS POCUS! And why not watch it this time while munching on some delicious Sanderson Sisters Caramel Apples? We've got the recipe for you right here!
http://bit.ly/HocusPocusRecipe
#HocusPocus
Hocus Pocus is one of our all time favorite Halloween movies to watch during the fall months. Our DVD's are still in storage so I used some of my online cash to purchase the digital version so we could enjoy it this year.
I love the recipe for the Sander Sisters Caramel Apples sure to make your family

squeal

with excitement and goes great while watching Hocus Pocus together for nice scary treat everyone is sure to love.
DISC SPECIFICATIONS:
Product SKUs: Multi-Screen Edition (Blu-ray, Digital Code, Digital HD/SD, DVD) and DVD
Feature Run Time: Approximately 96 minutes
Rating: PG in U.S.
Aspect Ratio: Blu-ray Feature Film = 1080p High Definition / 1.85:1
DVD Feature Film = 1.85:1
Audio: Blu-ray = English 5.1 DTS-HDMA, Spanish and French 5.1 Dolby Digital Language Tracks
DVD = English, Spanish, and French 5.1 Dolby Digital Language Tracks
Subtitles:

English Line 21, English SDH, Spanish, French
SOCIAL MEDIA:
Facebook: Facebook.com/DisneyHocusPocus
Disclosure: MarksvilleandMe may have received one or more of the products mentioned above as part of a promotion. Regardless, MarksvilleandMe only recommends products or services we use personally and believe will be good for our readers. Some of the links in the article may be "affiliate links." This means if you click on the link and purchase the item, I will receive compensation. If you would like MarksvilleandMe to review or promote a product or service please contact us at marksvilleandme@gmail.com.